Bloomberg: The Electric Car Revolution Is Here to Stay
Within six years, the cost of owning an electric car will be cheaper than purchasing and running a petrol or diesel model. That's the conclusion of a report on the fast-expanding electric car market by Bloomberg New Energy Finance.
The report says that even if petrol or diesel driven cars improve their fuel efficiency over the coming years, the cost of owning an electric car—buying it and running it—will be below that of conventional vehicles by 2022.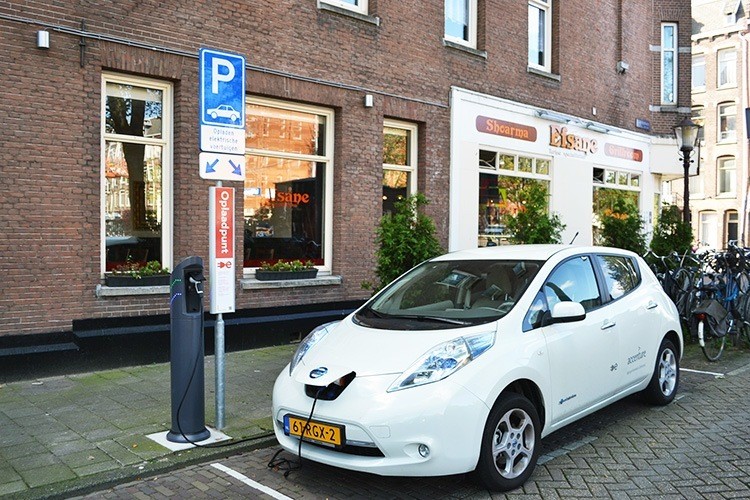 The increased sale of electrically-powered cars is seen as an important element in the fight against climate change. CO2 emissions from vehicles fueled by petrol and diesel cause a build-up of greenhouse gases and, especially in cities, pollution from exhausts causes serious damage to health.
Worldwide Sales
Bloomberg says electric vehicle (EV) sales worldwide reached just under half a million in 2015—a 60 percent rise on the previous year. Although electric-powered cars make up only one percent of the global vehicle total at present, it is predicted that worldwide EV sales will be more than 40 million by 2040, making up approximately 35 percent of all light duty vehicle sales.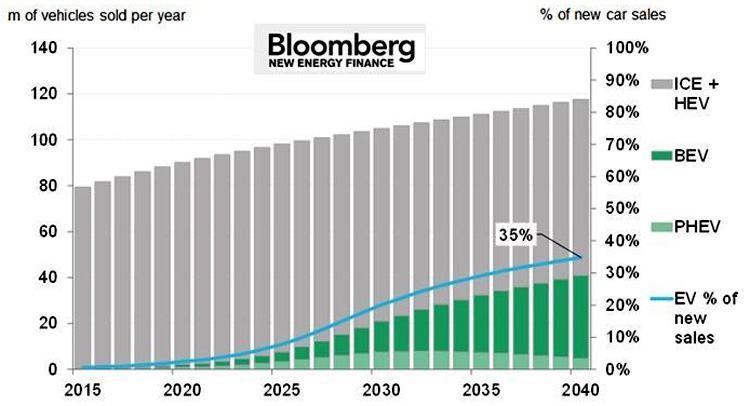 The report's authors say developments in battery technology are one of the key factors driving the downward trend in prices in the electric car market.
"At the core of this forecast is the work we have done on EV battery prices," said Colin McKerracher, a Bloomberg analyst.
"Lithium-ion battery costs have already fallen by 65 percent since 2010, reaching $350 per kilowatt hour (kWh) last year. We expect EV battery costs to be well below $120 per kWh by 2030 and to fall further after that as new chemistries come in," added McKerracher.
To date, two types of electric car have been produced for the mass market: a battery electric vehicle (BEV) is solely dependent on batteries for power, while a plug-in hybrid electric vehicle (PHEV) uses a combination of rechargeable batteries and a conventional engine as back-up.
Recent improvements in battery technology mean that a BEV can travel up to 200 miles without recharging.
Electric vehicle manufacturers say that as more sales are achieved, manufacturing costs will drop as economies of scale are achieved.
Various electric-powered sports models manufactured in the U.S. and Europe have tended to grab the headlines recently, but the main sales growth in future is likely to take place in China.
At present, the U.S. continues to be the world's biggest EV market, although it is Japan's Nissan Leaf that heads electric car sales.
The government in China, faced with tackling serious pollution problems in many cities, is giving big subsidies to the country's electric car manufacturers.
Incentives to Buyers
It is also offering incentives to buyers, in terms of lower insurance premiums and road taxes, discounted charging facilities and access to urban road networks when other vehicles are banned due to high pollution levels.
Xindayang, a Chinese manufacturer, is marketing electric vehicles in China at a cost of $10,000—much cheaper than EVs elsewhere.
Chinese EV manufacturers have global ambitions. Faraday Future, a China-backed EV maker, recently announced plans to invest more than a billion dollars in a manufacturing plant in the U.S.
China is also investing heavily in the necessary infrastructure for EVs. The State Council—the main law-making body in China—announced last year that facilities would be developed to handle up to five million plug-in vehicles by 2020.
YOU MIGHT ALSO LIKE
Koch Brothers Plotting Multimillion Dollar War on Electric Vehicles
Elon Musk Shows His Love for Dramatic Tesla Video With Powerful Message
The Ultimate in Off-Grid Transportation: Mini-Fleet-in-a-Box
Driving Cars Powered by Organic Solar Cells Might Be Closer Than You Think
Katahdin Woods and Waters. National Parks Conservation Association.
Looks like you'll have to trust your map if you want to find the newly designated Katahdin Woods and Waters National Monument in Maine.
Gov. Paul LePage has refused to put up any official signs along the four main roads to the 87,500-acre preserve, which is on the list of 27 national monuments under Interior Sec. Ryan Zinke's review.
Keep reading...
Show less
Keep reading...
Show less
More than 58 percent of Swiss voters supported a measure to phase out nuclear power in favor of renewable energy.
The plan provides billions in subsidies for renewable energy, bans the construction of new nuclear plants and decommissions Switzerland's five aging reactors. There is no clear date when the plants will close.

Keep reading...
Show less
iStock
By Alex Kirby
An ambitious scientific expedition is due to start work on May 22 on Bolivia's second-highest mountain, Illimani. The researchers plan to drill three ice cores from the Illimani glacier, and to store two of them in Antarctica as the start of the world's first ice archive.
Keep reading...
Show less
CC-BY-SA-2.5 and GNU FDL
Although not on most people's radar here, New York is one step closer to becoming the first state to have genetically modified, non-sterile insects released outside without cages.

Keep reading...
Show less
Photo credit: Michael Fujiwara/YouTube
The viral video of a young girl snatched off a Richmond, British Columbia dock by a sea lion is another reminder that people shouldn't get too close to wild animals.
Port officials in Canada have sharply criticized the family for putting themselves at risk for feeding the large animal, especially since there are several signs in the area warning people not to do so.
Keep reading...
Show less
Bears Ears National Monument. Tim Peterson
An anti-public lands official in Utah said Interior Sec. Ryan Zinke has already made up his mind to repeal Bears Ears National Monument, a move experts say could be against the law.
Keep reading...
Show less
The Crop Trust
Flooding breached a supposedly impregnable Arctic "doomsday" vault containing a collection of seeds stored for an apocalypse scenario last week, after warmer-than-average temperatures caused a layer of permafrost to thaw.
Keep reading...
Show less