Biomedical Bleeding of Horseshoe Crabs for Pharmaceuticals Puts Species at Risk
By Rebecca Zeiber
New research from Plymouth State University (PSU) and the University of New Hampshire (UNH) indicates that collecting and bleeding horseshoe crabs for biomedical purposes causes short-term changes in their behavior and physiology that could exacerbate the crabs' population decline in parts of the east coast.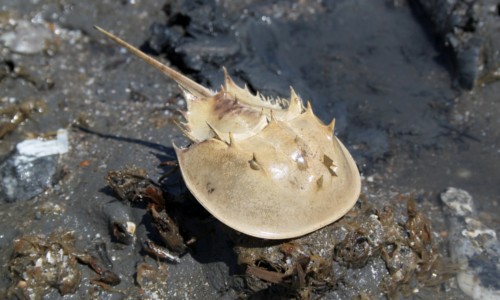 Each year, the U.S. biomedical industry harvests the blue blood from almost half a million living horseshoe crabs for use in pharmaceuticals—most notably, a product called Limulus amebocyte lysate (LAL), used to ensure vaccines and medical equipment are free of bacterial contamination. This lifesaving product can only be made from horseshoe crab blood, says researcher Win Watson, UNH professor of zoology.
"The crabs are very heavily bled—about 30 percent or more of their blood is taken, and that's a fair amount," said Chris Chabot, professor of neurobiology at PSU and a co-author on the study. "Approximately 20 to 30 percent of those crabs do not survive, so we were curious if any of the surviving crabs experienced nearly lethal effects from the bleeding." 
The study, Sublethal Behavioral and Physiological Effects of the Biomedical Bleeding Process on the American Horseshoe Crab, was published recently in the journal The Biological Bulletin.
With funding provided by a N.H. Sea Grant development grant, Chabot, Watson and lead author Rebecca Anderson, a PSU graduate student, replicated the biomedical bleeding process to determine the potential impacts on the crabs' behavior.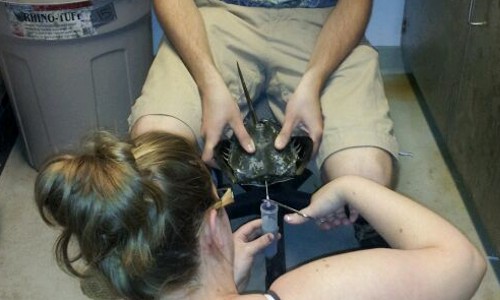 After capturing the crabs in New Hampshire's Great Bay and transporting some of them back to Chabot's lab at PSU and others to UNH's Jackson Estuarine Laboratory, the researchers monitored their movements for a week and then harvested some of their blood. Electronic data recorders called accelerometers that measure the crabs' speed and direction were strapped to their backs and the crabs were placed in running wheels in tanks filled with seawater.
The researchers found that for approximately two weeks after the bleeding procedure, the crabs' behavior differed from their behavior prior to the bleeding—they moved less frequently and with different patterns and rhythms, indicating they may have been disoriented. The researchers hope to track the movements of bled horseshoe crabs in their native environments to verify that their lab findings apply to real life behavioral changes.
One of the concerns, Anderson explains, is that the crabs are collected for bleeding during their breeding cycle when it's easiest to capture them on beaches. If the crabs are bled and then returned to the beach in a disoriented condition, they might be less likely to breed. This has the potential to exacerbate the population declines that are already occurring in parts of the east coast, including Delaware and Cape Cod. The populations in New Hampshire seem to be holding steady at the moment. 
"If the biomedical industry could delay the blood harvest, it would probably help these animals," Chabot said. "For example, if they are bled after the breeding season, then they could recover in the subsequent months, fatten up and survive the winter without any problems to be able to breed again the following year."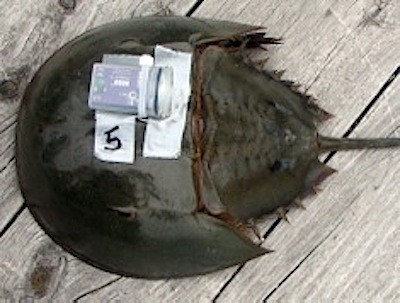 Watson suggests that the conditions under which they are transported could be improved as well. Fishermen capture the horseshoe crabs and often place them on a hot boat deck until they are transported by truck to the biomedical facility, all the while out of water and unable to breathe. If instead they were kept in cold, well-aerated water and perhaps fed, their stress levels might decrease and thus improve their chances of survival and ability to breed upon return to their native habitat.
Watson also notes that it is unclear which part of the process is the most detrimental—the bleeding, the transporting or simply keeping the crabs in the lab and out of their natural environment. Their research also revealed that the crabs' levels of hemocyanin, a protein in their system that helps transport oxygen in their blood, decreased for all individuals regardless of whether or not they were bled. Lowered hemocyanin levels might lessen the crabs' resilience to the stress of the experience.
Regardless, the researchers feel improvements in the collection and bleeding process are imperative to help preserve the species. In addition to the economic value of their blood, horseshoe crab eggs provide a critical food source for shorebirds that stop in Delaware on their migration to the Arctic. The adult crabs are also harvested for bait in the whelk and eel fisheries in many states, not including New Hampshire.
"We want to ensure that the biomedical bleeding is a sustainable practice, because horseshoe crabs are a critical component of the coastal ecosystem," Chabot said. 
"I hope that this research helps to design management regulations that meet the needs of both the people and the crabs," Anderson adds.
Visit EcoWatch's BIODIVERSITY page for more related news on this topic.

Katahdin Woods and Waters. National Parks Conservation Association.
Looks like you'll have to trust your map if you want to find the newly designated Katahdin Woods and Waters National Monument in Maine.
Gov. Paul LePage has refused to put up any official signs along the four main roads to the 87,500-acre preserve, which is on the list of 27 national monuments under Interior Sec. Ryan Zinke's review.
Keep reading...
Show less
Keep reading...
Show less
More than 58 percent of Swiss voters supported a measure to phase out nuclear power in favor of renewable energy.
The plan provides billions in subsidies for renewable energy, bans the construction of new nuclear plants and decommissions Switzerland's five aging reactors. There is no clear date when the plants will close.

Keep reading...
Show less
iStock
By Alex Kirby
An ambitious scientific expedition is due to start work on May 22 on Bolivia's second-highest mountain, Illimani. The researchers plan to drill three ice cores from the Illimani glacier, and to store two of them in Antarctica as the start of the world's first ice archive.
Keep reading...
Show less
CC-BY-SA-2.5 and GNU FDL
Although not on most people's radar here, New York is one step closer to becoming the first state to have genetically modified, non-sterile insects released outside without cages.

Keep reading...
Show less
Photo credit: Michael Fujiwara/YouTube
The viral video of a young girl snatched off a Richmond, British Columbia dock by a sea lion is another reminder that people shouldn't get too close to wild animals.
Port officials in Canada have sharply criticized the family for putting themselves at risk for feeding the large animal, especially since there are several signs in the area warning people not to do so.
Keep reading...
Show less
Bears Ears National Monument. Tim Peterson
An anti-public lands official in Utah said Interior Sec. Ryan Zinke has already made up his mind to repeal Bears Ears National Monument, a move experts say could be against the law.
Keep reading...
Show less
The Crop Trust
Flooding breached a supposedly impregnable Arctic "doomsday" vault containing a collection of seeds stored for an apocalypse scenario last week, after warmer-than-average temperatures caused a layer of permafrost to thaw.
Keep reading...
Show less