Appalling Lack of Progress in Factory Farm Policies Despite Increased Public Awareness
A comprehensive analysis of the U.S. meat, egg and dairy industries in 2008 excoriated  producers for their business practices. A new assessment of progress since then says industrial livestock production remains just as destructive, and little has been done to address any of the problems.
The 
report
, from
Johns Hopkins University Center for a Livable Future
(CLF), says the problems identified in 2008—which included non-therapeutic use of antimicrobials in food animal production, liquid farm waste and intense and inhumane animal practices—have worsened. The CLF report blames an "assault on reforms" in Congress and finds the U.S. Department of Agriculture (USDA), Food and Drug Administration (FDA) and Congress have acted "regressively" in policymaking on industrial food animal system issues.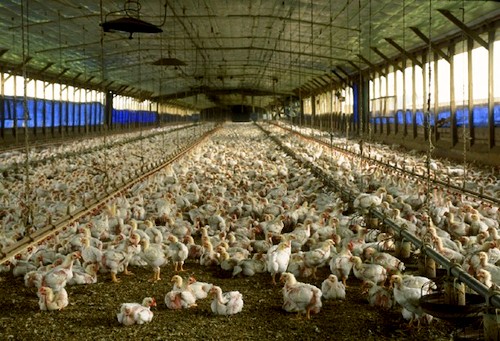 "There has been an appalling lack of progress," Robert S. Lawrence, CLF director, said in a
press release
. "The failure to act by the USDA and FDA, the lack of action or concern by the Congress and continued intransigence of the animal agriculture industry have made all of our problems worse."
The CLF report says that despite the continual emergence of new scientific evidence demonstrating the severity of the threats posed by the industrial meat, dairy and egg processes, remarkably little has actually been done to address any of the problems.
"If the last five years has shown us anything, it is that the public is more engaged than ever in the food system," said Governor John Carlin, chair of the commission. "The results of this analysis show that our policymakers are really not listening to their constituents."
Ban the non-therapeutic use of antimicrobials in food animal production to reduce the risk of antimicrobial resistance to medically important antibiotics and other antimicrobials.
Define non-therapeutic use of antimicrobials as any use in food animals in the absence of microbial disease or documented microbial disease exposure.
Treat industrial farm animal production as an industrial operation and implement a new system to deal with farm waste, especially liquid waste systems, to replace the inflexible and broken system that exists today and to require permitting of more operations.
Phase out the most intensive and inhumane production practices (such as gestation crates, restrictive veal crates and battery cages) within a decade to reduce the risk of industrial farm animal production to public health and improve animal well-being.
Aggressively enforce the existing anti-trust laws applicable to food animal production and, where needed, pass additional laws to provide a level playing field for producers.
Increase funding for, expand and reform animal agriculture research.
"In 2008, the recommendations were heralded by many in the agriculture community, the agencies and Congress as the catalyst they needed to make vital changes to a food supply that has been criticized as unsustainable and in some cases unsafe," said Bob Martin, PCIFAP executive director. "Inaction was inexcusable five years ago, now it is unconscionable."

Katahdin Woods and Waters. National Parks Conservation Association.
Looks like you'll have to trust your map if you want to find the newly designated Katahdin Woods and Waters National Monument in Maine.
Gov. Paul LePage has refused to put up any official signs along the four main roads to the 87,500-acre preserve, which is on the list of 27 national monuments under Interior Sec. Ryan Zinke's review.
Keep reading...
Show less
Keep reading...
Show less
More than 58 percent of Swiss voters supported a measure to phase out nuclear power in favor of renewable energy.
The plan provides billions in subsidies for renewable energy, bans the construction of new nuclear plants and decommissions Switzerland's five aging reactors. There is no clear date when the plants will close.

Keep reading...
Show less
iStock
By Alex Kirby
An ambitious scientific expedition is due to start work on May 22 on Bolivia's second-highest mountain, Illimani. The researchers plan to drill three ice cores from the Illimani glacier, and to store two of them in Antarctica as the start of the world's first ice archive.
Keep reading...
Show less
CC-BY-SA-2.5 and GNU FDL
Although not on most people's radar here, New York is one step closer to becoming the first state to have genetically modified, non-sterile insects released outside without cages.

Keep reading...
Show less
Photo credit: Michael Fujiwara/YouTube
The viral video of a young girl snatched off a Richmond, British Columbia dock by a sea lion is another reminder that people shouldn't get too close to wild animals.
Port officials in Canada have sharply criticized the family for putting themselves at risk for feeding the large animal, especially since there are several signs in the area warning people not to do so.
Keep reading...
Show less
Bears Ears National Monument. Tim Peterson
An anti-public lands official in Utah said Interior Sec. Ryan Zinke has already made up his mind to repeal Bears Ears National Monument, a move experts say could be against the law.
Keep reading...
Show less
The Crop Trust
Flooding breached a supposedly impregnable Arctic "doomsday" vault containing a collection of seeds stored for an apocalypse scenario last week, after warmer-than-average temperatures caused a layer of permafrost to thaw.
Keep reading...
Show less