Activist Convicted of Blockading Yellowstone's Wild Bison Trap
Comfrey Jacobs, the young man who blocked an access road to Yellowstone National Park's Stephens Creek bison trap in March, plead guilty to one misdemeanor charge—interfering with an agency function—at a change of plea and sentencing hearing on June 20. Jacobs appeared before federal magistrate judge Mark Carman in the U.S. District Court of Wyoming at Mammoth Hot Springs in the Park. The judge dismissed two other charges that had been filed against Jacobs (disorderly conduct and violating a bison management closure), but rejected the sentence Jacobs and the government had agreed to in a plea agreement.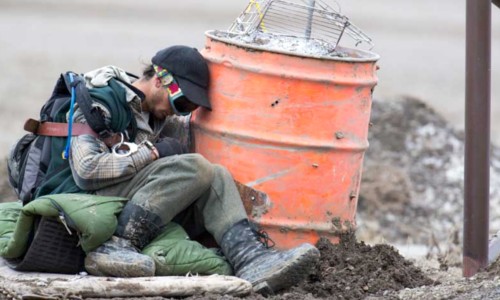 The agreement would have had Jacobs serve seven days in jail, and one year of unsupervised probation with a ban from Yellowstone National Park for the duration. Jacobs also had agreed to pay $355 as restitution, the actual cost to the Park Service of removing him from the blockade. Instead, the judge sentenced Jacobs to three years of unsupervised probation with a ban from the Park, the $355 restitution, plus a $500 fine and what was titled a "community service payment" of $2,500 to a Yellowstone National Park-affiliated foundation.
The community service payment was a suggestion pressed by the U.S. government, and accepted by the judge after learning that Jacobs had received financial support from the public. This aspect of the sentence is being challenged in a motion to correct the sentence filed by Jacobs through his attorney, Summer Nelson.
"The intent of my action was to shut down Yellowstone's capture-for-slaughter operations of the world's most important wild bison population," Jacobs said, "I was successful, and that's why I plead guilty."
Jacobs said he was aware that there would be repercussions for his actions, but felt strongly that he needed to draw attention to what Yellowstone National Park and affiliates within the Interagency Bison Management Plan (IBMP) are doing to America's few remaining wild bison, so that they are held accountable for their role in the bison slaughter, which has lead to the decimation of America's last wild bison population.
"We all make sacrifices for the things we love and believe in," said Jacobs after the hearing. "My actions and punishment are my sacrifice for these amazing and majestic animals. My hardships are nothing compared to the constant suffering the buffalo are put through during capture, slaughter, hazing, and all of the harmful operations carried out under the Interagency Bison Management Plan."
Wild bison are currently managed under the highly controversial state, federal and tribal Interagency Bison Management Plan (IBMP), which is heavily influenced by Montana's livestock industry. The IBMP allows for the government shooting and hazing (chasing) of bison from their native Montana habitat, a lengthy late-season harvest, and capture for slaughter and research.
American citizens and others world-wide have have largely opposed the actions carried out under the IBMP.
"I believe year-round habitat in the Greater Yellowstone Ecosystem and Montana is the solution for wild bison population management, not genetically damaging and limiting the herds with slaughter and constant harassment and abuse through hazing operations," Jacobs said. "I hope my action was effective in raising public awareness on this issue."
The wild bison of Yellowstone are among the most significant bison populations in the world and the last continuously wild bison to exist in the U.S. Currently, wild, migratory bison are ecologically extinct throughout their historic range with fewer than 4,200 existing in and around Yellowstone National Park. They are the only bison to hold their identity as a wildlife species. North America's largest land mammal, wild bison are a keystone species critical to the health and integrity of grasslands and prairie ecosystems. The zero-tolerance bison politics of Montana's livestock industry are driving the policies that are pushing these significant herds back to the brink of extinction.
"We deeply thank Comfrey Jacobs for taking this brave and selfless action," said Dan Brister, executive director of Buffalo Field Campaign. "We have always strongly opposed the slaughter and abuse of wild buffalo and applaud non-violent civil disobedience when other means of public participation have been exhausted and ignored."
Katahdin Woods and Waters. National Parks Conservation Association.
Looks like you'll have to trust your map if you want to find the newly designated Katahdin Woods and Waters National Monument in Maine.
Gov. Paul LePage has refused to put up any official signs along the four main roads to the 87,500-acre preserve, which is on the list of 27 national monuments under Interior Sec. Ryan Zinke's review.
Keep reading...
Show less
Keep reading...
Show less
More than 58 percent of Swiss voters supported a measure to phase out nuclear power in favor of renewable energy.
The plan provides billions in subsidies for renewable energy, bans the construction of new nuclear plants and decommissions Switzerland's five aging reactors. There is no clear date when the plants will close.

Keep reading...
Show less
iStock
By Alex Kirby
An ambitious scientific expedition is due to start work on May 22 on Bolivia's second-highest mountain, Illimani. The researchers plan to drill three ice cores from the Illimani glacier, and to store two of them in Antarctica as the start of the world's first ice archive.
Keep reading...
Show less
CC-BY-SA-2.5 and GNU FDL
Although not on most people's radar here, New York is one step closer to becoming the first state to have genetically modified, non-sterile insects released outside without cages.

Keep reading...
Show less
Photo credit: Michael Fujiwara/YouTube
The viral video of a young girl snatched off a Richmond, British Columbia dock by a sea lion is another reminder that people shouldn't get too close to wild animals.
Port officials in Canada have sharply criticized the family for putting themselves at risk for feeding the large animal, especially since there are several signs in the area warning people not to do so.
Keep reading...
Show less
Bears Ears National Monument. Tim Peterson
An anti-public lands official in Utah said Interior Sec. Ryan Zinke has already made up his mind to repeal Bears Ears National Monument, a move experts say could be against the law.
Keep reading...
Show less
The Crop Trust
Flooding breached a supposedly impregnable Arctic "doomsday" vault containing a collection of seeds stored for an apocalypse scenario last week, after warmer-than-average temperatures caused a layer of permafrost to thaw.
Keep reading...
Show less