7 Foods That Keep You From Overeating
The Chinese have a saying: Eat only until you are 70 percent full. The trouble is, many of us can't resist that last 30 percent. Fortunately, there are foods we can enjoy that prevent us from overeating (something most of us fall victim to, especially around the winter months). But now that the holidays have passed and we've recovered from "weight scale" shock, it's time to address the problem. Here are seven foods that will help.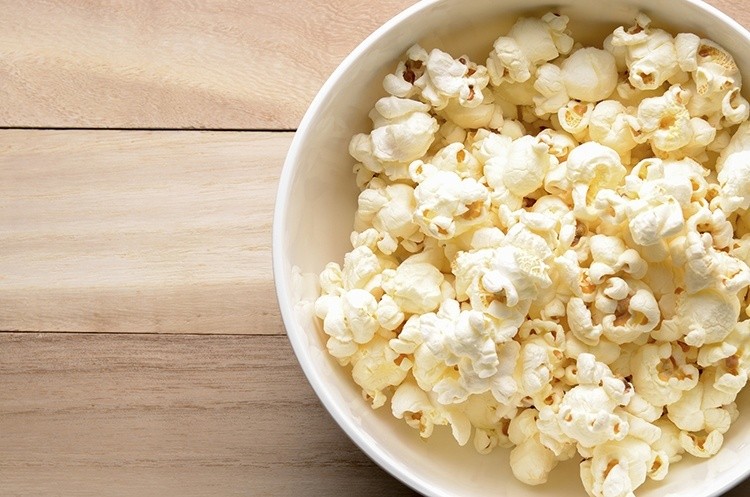 1. Cappuccino Instead of Candy. Skip the lunchtime candy bar and reduce those hunger cravings with a cappuccino. As noted in PubMed, aerated, foam-based drinks can reduce your appetite and trick your brain into feeling fuller. Sugary foods, on the other hand, can make you feel hungrier.
2. Hummus to Reduce Hunger. Hummus is packed with protein and pairs well with fiber-rich vegetables. Combining hummus with veggies like snap peas, carrots or celery will make you feel fuller, so you'll eat less at lunch or dinner. In a WebMD feature archive, Mark Gold, MD, at the University of Florida noted that the higher the fiber and protein content of a food or meal, the more likely your stomach will be satisfied.
3. Avocados Help Suppress Appetite. Avocados eaten in moderation can help regulate your hunger hormones. The Nutrition Journal reported a study that eating half a fresh avocado with lunch reduced the desire to eat for hours afterward.
4. Popcorn Cancels Appetite. Air-popped corn can make you feel full without adding lots of calories. Skip the butter or margarine and instead try nutritional yeast and lime juice. The air-injected snack fights the urge to snack on chips, cookies, ice cream and other high calorie snacks.
5. Beat the Urge with Bananas. To beat the blues and stresses of today's fast-paced living, pack some bananas for lunch. The sugar in this healthy fruit will keep you from those high calorie vending machine snacks.
6. Reach for the All-Bran Cereal. WebMD also notes that researchers at the University of Sydney indicated a number of foods that make people feel full. Among the foods that scored highest was all-bran cereal. So if you feel the need to snack at home or at office, fill a bowl of all-bran cereal with skim milk to satisfy those midday hunger pangs. An article in Prevention points to a Journal of American Dietetic Association that links lower body mass index with a high fiber intake.
7. Choose High-Fiber Fruits. Apples and oranges are high in fiber, water content and protein. All these ingredients help satiate your hunger and reduce your tendency to overeat. Prevention notes that you should "munch on fiber all day long."
YOU MIGHT ALSO LIKE 
What You Should Eat to Balance Your pH and Alkalize Your Body
Katahdin Woods and Waters. National Parks Conservation Association.
Looks like you'll have to trust your map if you want to find the newly designated Katahdin Woods and Waters National Monument in Maine.
Gov. Paul LePage has refused to put up any official signs along the four main roads to the 87,500-acre preserve, which is on the list of 27 national monuments under Interior Sec. Ryan Zinke's review.
Keep reading...
Show less
Keep reading...
Show less
More than 58 percent of Swiss voters supported a measure to phase out nuclear power in favor of renewable energy.
The plan provides billions in subsidies for renewable energy, bans the construction of new nuclear plants and decommissions Switzerland's five aging reactors. There is no clear date when the plants will close.

Keep reading...
Show less
iStock
By Alex Kirby
An ambitious scientific expedition is due to start work on May 22 on Bolivia's second-highest mountain, Illimani. The researchers plan to drill three ice cores from the Illimani glacier, and to store two of them in Antarctica as the start of the world's first ice archive.
Keep reading...
Show less
CC-BY-SA-2.5 and GNU FDL
Although not on most people's radar here, New York is one step closer to becoming the first state to have genetically modified, non-sterile insects released outside without cages.

Keep reading...
Show less
Photo credit: Michael Fujiwara/YouTube
The viral video of a young girl snatched off a Richmond, British Columbia dock by a sea lion is another reminder that people shouldn't get too close to wild animals.
Port officials in Canada have sharply criticized the family for putting themselves at risk for feeding the large animal, especially since there are several signs in the area warning people not to do so.
Keep reading...
Show less
Bears Ears National Monument. Tim Peterson
An anti-public lands official in Utah said Interior Sec. Ryan Zinke has already made up his mind to repeal Bears Ears National Monument, a move experts say could be against the law.
Keep reading...
Show less
The Crop Trust
Flooding breached a supposedly impregnable Arctic "doomsday" vault containing a collection of seeds stored for an apocalypse scenario last week, after warmer-than-average temperatures caused a layer of permafrost to thaw.
Keep reading...
Show less