4,000 Bottles of Fresh Air Shipped to China, Company Struggling to Keep Up With Demand
Reminiscent of a scene out of Space Balls (Perri-Air anyone?), a Canadian startup, Vitality Air, is selling bottled air from the Rocky Mountains. It may have started out as a joke, but citizens of smog-choked cities in eastern China are buying it up.
"A gag gift, that's how it started off, but you know what? There's actually a lot of demand for this in … highly polluted countries," co-founder Moses Lam told the Canadian National Post. The company was founded by Lam and Troy Paquette more than a year ago, but only began selling in China less than two months ago.
The idea came when Lam sold a bag of fresh Canadian air on eBay for 99 cents. That's steep enough for something that most people have always considered free. But when a second bag bidded up to $168 "we thought 'hey, we might have a market for this,'" Lam said.
And people can't get enough of it. "Our first shipment of 500 bottles of fresh air were sold in four days," Lam told The Telegraph. Flash forward to earlier this week: the company shipped 4,000 more bottles to China, most of which has been bought.
The company claims that its products can help with "hangovers, alertness and working out" while also being "your solution to pollution." The startup is struggling to keep up with demand. Each bottle is filled by hand in the Rockies. They "fill massive cans through clean compression," the company explains on its website, then they bottle it individually at their facility in Edmonton. And they even perform a "comprehensive check" after each can is filled for safety before shipping it out.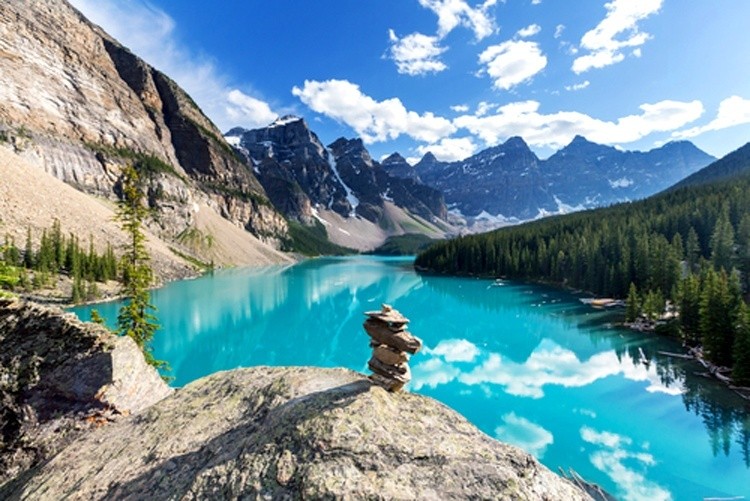 Photo credit: Shutterstock
Just how much does a bottle of Rocky Mountain air cost you? A 7.7 liter bottle of Lake Louise or Banff air will run you about $32 Canadian dollars ($23 U.S. dollars). The bottle contains "fresh clean air," which contains 78 percent nitrogen, 21 percent oxygen and a small amount of other gases. If you're in search of "pure premium oxygen," Vitality Air has you covered, as well. Their "pure oxygen" bottle contains 97 percent oxygen and a small amount of other gases. The startup claims it "provides upwards of 200 inhalations" for $28.99 Canadian dollars ($21 U.S. dollars).
For China's "upper middle class who crave a better quality of life," Vitality Air gives them the opportunity to "inject a bit of fresh air into their lives," Harrison Wang with TAK International, Vitality's Edmonton-based Chinese distributor, told the National Post.
This is not the first time a company has tried selling bottled air, believe it or not, nor is it the first time that Chinese citizens were eager to buy bottled air. In 2013, one Chinese businessman, Chen Guangbiao, sold cans of air reportedly taken from less industrialized regions of China for five yuan ($0.77 U.S. dollars).
China's air pollution problem is nothing new. The country has been grappling with how to clean up its air for years. A documentary highlighting China's deadly air pollution went viral earlier this year with more than 200 million views in the first five days. And a study published in August found that the air in Beijing is so polluted that breathing it does as much damage to the lungs as smoking 40 cigarettes a day, and 4,000 people are dying every day from smog in China citing coal-burning as the likely principal cause.
The issue has received widespread attention again as Beijing issued its first "red alert" for smog last week amid criticism that the government is not doing enough to address the problem. Pollution levels topped off at 634 micrograms per cubic meter in some areas. That's more than 25 times the level recommended by the World Health Organization, which is 25 micrograms per cubic meter. Beijing just issued its second warning Friday as the pollution index is forecasted to exceed 500 micrograms in Beijing and parts of Hebei province over the weekend.
Anyone need a last minute Christmas gift?
To see the devastating effect pollution has on our bodies, check out this startling video from DNews:
YOU MIGHT ALSO LIKE
Elon Musk: We Can Power America by Covering Small Corner of Utah With Solar
Obama Runs Wild With Bear Grylls to Call for Climate Action
$300 Underground Greenhouse Grows Your Food Year-Round
Couple Builds Greenhouse Around Home to Grow Food and Keep Warm
Katahdin Woods and Waters. National Parks Conservation Association.
Looks like you'll have to trust your map if you want to find the newly designated Katahdin Woods and Waters National Monument in Maine.
Gov. Paul LePage has refused to put up any official signs along the four main roads to the 87,500-acre preserve, which is on the list of 27 national monuments under Interior Sec. Ryan Zinke's review.
Keep reading...
Show less
Keep reading...
Show less
More than 58 percent of Swiss voters supported a measure to phase out nuclear power in favor of renewable energy.
The plan provides billions in subsidies for renewable energy, bans the construction of new nuclear plants and decommissions Switzerland's five aging reactors. There is no clear date when the plants will close.

Keep reading...
Show less
iStock
By Alex Kirby
An ambitious scientific expedition is due to start work on May 22 on Bolivia's second-highest mountain, Illimani. The researchers plan to drill three ice cores from the Illimani glacier, and to store two of them in Antarctica as the start of the world's first ice archive.
Keep reading...
Show less
CC-BY-SA-2.5 and GNU FDL
Although not on most people's radar here, New York is one step closer to becoming the first state to have genetically modified, non-sterile insects released outside without cages.

Keep reading...
Show less
Photo credit: Michael Fujiwara/YouTube
The viral video of a young girl snatched off a Richmond, British Columbia dock by a sea lion is another reminder that people shouldn't get too close to wild animals.
Port officials in Canada have sharply criticized the family for putting themselves at risk for feeding the large animal, especially since there are several signs in the area warning people not to do so.
Keep reading...
Show less
Bears Ears National Monument. Tim Peterson
An anti-public lands official in Utah said Interior Sec. Ryan Zinke has already made up his mind to repeal Bears Ears National Monument, a move experts say could be against the law.
Keep reading...
Show less
The Crop Trust
Flooding breached a supposedly impregnable Arctic "doomsday" vault containing a collection of seeds stored for an apocalypse scenario last week, after warmer-than-average temperatures caused a layer of permafrost to thaw.
Keep reading...
Show less