300+ Devoted Activists Rally in Minnesota Against Proposed Tar Sands Pipeline Expansion Project
The sky was gray, the temp was just below freezing, the wind was whistling and sleet was pelting down on Kellogg Park in downtown St. Paul, MN, last week …
… but that wasn't enough to stop more than 300 of us from across the Midwest who came to rally and march against the proposed expansion of the Alberta Clipper tar sands pipeline. With songs, speeches and buoyant enthusiasm, we gathered to say "No" to tar sands expansion and "Yes" to a future free of carbon emissions and oil spills.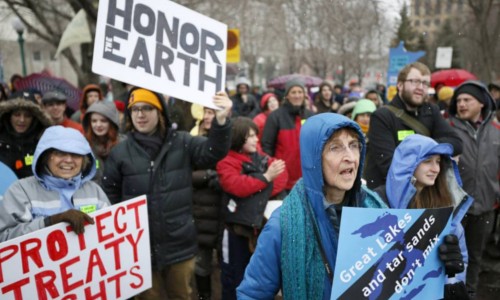 The Alberta Clipper is an existing Enbridge pipeline that runs from Hardisty, Alberta to Superior, WI, across much of northern Minnesota. Built in 2010 to carry tar sands oil, it is currently under consideration for expansion from its present 450,000 barrels per day (bpd) to 800,000 bpd, which would make it almost as large as Keystone XL. Expanding it would be a similar disaster for the climate and would increase the risk of spills into the Mississippi River and Lake Superior.
We're opposing the expansion at the state level right now in Minnesota through a contested case hearing process at the Minnesota Public Utilities Commission, which is very much like putting the pipeline on trial: there's a judge and both sides get to make their arguments. The contested case also ensures there are public hearings where anyone can give testimony. It's an almost-all-volunteer effort—while we have a lawyer, his funds were raised primarily by volunteers who wanted to make sure we had a voice in the process.
We gathered in St. Paul last Thursday from all across the region so we could show up in force to the final public hearing. We marched through downtown to the Public Utilities Commission, led by a group of drummers and a giant paper maché pipeline, turning heads and bringing officeworkers to windows to look down at us.
The PUC hearing was packed, which was the best and worst part of the day because it made a huge impression and they were so unprepared for the crowd. The official police count was 1,000 people (many of our supporters had gone directly to the hearing so they could sign up and testify early, and there were also some pipeline contractors who came to testify in favor of the expansion). Only about 200 people could fit into the hearing room and official overflow room combined.
We brought our big rally sound system indoors and jury-rigged a set of extension speakers in an empty room so more people could listen, but the crowds were still overflowing. I wish more people had been able to actually be part of the hearing, but it was fabulous to see all the interest. One of the officials at the hearing said she'd never seen anything else like this.
There are only a few days left to submitted a public comment yet against the Alberta Clipper pipeline—the public comment period closes on April 14.
--------
YOU MIGHT ALSO LIKE

Tar Sands Emissions Linked to Serious Health Problems in Alberta
Report Reveals High Risk, No Reward of Enbridge Tar Sands Pipeline Expansion
Report Details How Extreme Energy Expansion Threatens the Great Lakes
--------
Katahdin Woods and Waters. National Parks Conservation Association.
Looks like you'll have to trust your map if you want to find the newly designated Katahdin Woods and Waters National Monument in Maine.
Gov. Paul LePage has refused to put up any official signs along the four main roads to the 87,500-acre preserve, which is on the list of 27 national monuments under Interior Sec. Ryan Zinke's review.
Keep reading...
Show less
Keep reading...
Show less
More than 58 percent of Swiss voters supported a measure to phase out nuclear power in favor of renewable energy.
The plan provides billions in subsidies for renewable energy, bans the construction of new nuclear plants and decommissions Switzerland's five aging reactors. There is no clear date when the plants will close.

Keep reading...
Show less
iStock
By Alex Kirby
An ambitious scientific expedition is due to start work on May 22 on Bolivia's second-highest mountain, Illimani. The researchers plan to drill three ice cores from the Illimani glacier, and to store two of them in Antarctica as the start of the world's first ice archive.
Keep reading...
Show less
CC-BY-SA-2.5 and GNU FDL
Although not on most people's radar here, New York is one step closer to becoming the first state to have genetically modified, non-sterile insects released outside without cages.

Keep reading...
Show less
Photo credit: Michael Fujiwara/YouTube
The viral video of a young girl snatched off a Richmond, British Columbia dock by a sea lion is another reminder that people shouldn't get too close to wild animals.
Port officials in Canada have sharply criticized the family for putting themselves at risk for feeding the large animal, especially since there are several signs in the area warning people not to do so.
Keep reading...
Show less
Bears Ears National Monument. Tim Peterson
An anti-public lands official in Utah said Interior Sec. Ryan Zinke has already made up his mind to repeal Bears Ears National Monument, a move experts say could be against the law.
Keep reading...
Show less
The Crop Trust
Flooding breached a supposedly impregnable Arctic "doomsday" vault containing a collection of seeds stored for an apocalypse scenario last week, after warmer-than-average temperatures caused a layer of permafrost to thaw.
Keep reading...
Show less