3 Years After Fukushima: How Survivors' Mental Health Continues Deteriorating
So much of the impact of a disaster like the earthquake and tsunami three years ago in Fukushima, Japan is tangible—radioactive leaks, food scares, petitions and lawsuits have all taken place since March 11, 2011.
The emotional distress faced by many in the areas near the six-reactor Fukushima Daiichi nuclear power plant is far less palpable, though. Predictions on the nuclear future of Japan and other large nations like the U.S. are much easier to find than accounts of impacted and displaced residents whose mental health continues to suffer from the events of that day.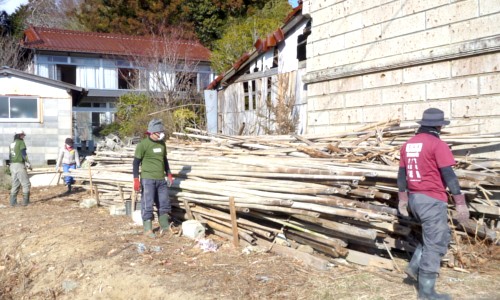 Though thousands died from the impacts of the earthquake and tsunami, no deaths directly related to radiation have been reported, according to the BBC. But that doesn't ease concerns for people like Myuki Arakawa, a mother of two who routinely takes her sons to the hospital for thyroid cancer. Since 2011, surveys have revealed 33 cases of thyroid cancer in children and another 42 suspected cases.
Though Fukushima University Medical School Professor Shinichi Suzuki, who leads the team of researchers surveying children in the area, tires of people likening Fukushima to the 1986 disaster at the Chernobyl Nuclear Power Plant in Ukraine, there's no denying one of Arakawa's chief concern.
"After the Chernobyl disaster children were diagnosed many years later," she told the BBC. "My boys may be fine now, but if there is any risk I need to find out as soon as possible."
She's not comfortable relying on the government for information. Just two weeks ago, Japanese officials announced plans to restart reactors that were closed after the incident, calling nuclear energy a "vital source" of power.
"The government gives us very little information," Arakawa said. "I need to be completely sure my boys are fine. I want this hospital to follow up next year and the following year and the one after that."
According to research revealed in a TIME report, post-traumatic stress disorder (PTSD) symptoms are on the rise in nearby towns like Hirono, Fukushima, where few people died, but survivors lived with haunting memories.
More than half of the 241 residents surveyed displayed "clinically concerning" symptoms of PTSD, said Brigham Young University professor Niwako Yamawaki, who authored a study of Hirono. Also, two-thirds reported depression symptoms.
All survey participants lived in temporary housing provided by the government. Their average age was 58, as researchers found that younger residents relocated at a higher rate. Healthy diets, exercise and even often frowned-upon habits like drinking alcohol appeared to be the only positive buffers from the aftermath of the Fukushima disaster.
"In the U.S., if people are drinking after a psychologically traumatic event, it is seen as a negative consequence,"Yamawaki said. "But what we found was that when people were drinking in Japan, they were interacting with community members–usually over dinner or at meetings."
For some, that hasn't been enough these past few years. Hideko Takeda, a 56-year-old near Namie, Fukushima, told the BBC that her father succumbed to the stress of being displaced and died after two years of his health deteriorating. She also spoke about a man who hanged himself after the disaster.
"I blame the power company [TEPCO] for his death," she said of her father. "They took everything from him, his dreams, his hope. They took his land and scattered his family far from home.
"Nothing will ever bring those back."
Visit EcoWatch's NUCLEAR page for more related news on this topic.

Katahdin Woods and Waters. National Parks Conservation Association.
Looks like you'll have to trust your map if you want to find the newly designated Katahdin Woods and Waters National Monument in Maine.
Gov. Paul LePage has refused to put up any official signs along the four main roads to the 87,500-acre preserve, which is on the list of 27 national monuments under Interior Sec. Ryan Zinke's review.
Keep reading...
Show less
Keep reading...
Show less
More than 58 percent of Swiss voters supported a measure to phase out nuclear power in favor of renewable energy.
The plan provides billions in subsidies for renewable energy, bans the construction of new nuclear plants and decommissions Switzerland's five aging reactors. There is no clear date when the plants will close.

Keep reading...
Show less
iStock
By Alex Kirby
An ambitious scientific expedition is due to start work on May 22 on Bolivia's second-highest mountain, Illimani. The researchers plan to drill three ice cores from the Illimani glacier, and to store two of them in Antarctica as the start of the world's first ice archive.
Keep reading...
Show less
CC-BY-SA-2.5 and GNU FDL
Although not on most people's radar here, New York is one step closer to becoming the first state to have genetically modified, non-sterile insects released outside without cages.

Keep reading...
Show less
Photo credit: Michael Fujiwara/YouTube
The viral video of a young girl snatched off a Richmond, British Columbia dock by a sea lion is another reminder that people shouldn't get too close to wild animals.
Port officials in Canada have sharply criticized the family for putting themselves at risk for feeding the large animal, especially since there are several signs in the area warning people not to do so.
Keep reading...
Show less
Bears Ears National Monument. Tim Peterson
An anti-public lands official in Utah said Interior Sec. Ryan Zinke has already made up his mind to repeal Bears Ears National Monument, a move experts say could be against the law.
Keep reading...
Show less
The Crop Trust
Flooding breached a supposedly impregnable Arctic "doomsday" vault containing a collection of seeds stored for an apocalypse scenario last week, after warmer-than-average temperatures caused a layer of permafrost to thaw.
Keep reading...
Show less