200+ Groups Tell Congress and Obama: Reject Fast-Tracking Exports of Fracked Gas Overseas
Following a push by the Obama Administration and House Speaker John Bohener to fast-track natural gas exports as leverage against Russia in the growing tensions between the nation and Ukraine, Americans Against Fracking and allied organizations today called on President Obama, Secretary of State John Kerry and the U.S. Congress to reject plans to export liquefied natural gas (LNG) overseas.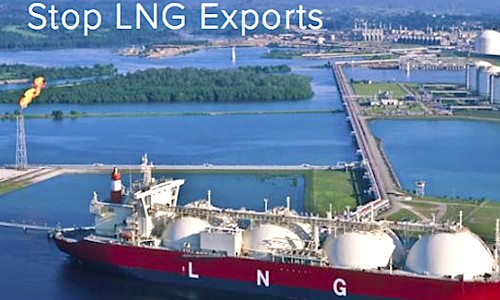 As exporting oil and gas overseas will accelerate fracking in the U.S., more than 200 organizations signed on to the letter, urging lawmakers to protect U.S. communities, their economies and their vital resources from fracking. 
"ExxonMobil and other oil and gas giants should not be controlling our foreign policy," said Food & Water Watch Executive Director Wenonah Hauter. "We cannot sacrifice communities here in the U.S. for illusory-short term foreign policy objectives. We strongly urge Congress and the Obama Administration to say 'no' to oil and gas exports." 
Exporting oil and gas overseas is expected to lead to an increase in natural gas prices for American consumers and will also accelerate the pace of drilling and fracking, according to analysis by Food & Water Watch. Moreover, building the infrastructure necessary to support natural gas drilling and exportation will require significant economic investment.
But U.S. supplies of tight oil are expected to last seven years, and that's only if the oil and gas industry is granted unfettered access to drill and frack. Food & Water Watch estimates that if U.S. consumption of natural gas stays constant at 2010 rates, U.S. supplies of the resource will only last about 22 years. 
Fracking carries significant environmental, economic and public health effects. In addition to polluting water resources, the process also releases methane into the atmosphere. A potent greenhouse gas, methane is at least 25 times more efficient than carbon dioxide at trapping heat over a 100-year time frame, and causes between 79 to 105 times the climate forcing of carbon dioxide over a 20-year time frame. The National Oceanographic and Atmospheric Administration found that the rate of methane leakage in at least two active gas fields is much higher than the U.S. Greenhouse Gas Inventory's current estimate.
"Accelerating fracking in order to ship oil and gas overseas will only exacerbate climate change," said Jesse Bacon of Environmental Action. "Fossil fuels are a short-sited, polluting form of energy. They should have no place in fueling our planet, or our foreign policy." 
The recently released Defense Department Quadrennial Defense Review lists climate change as a significant and growing security threat. The review cites climate change in several places and states: "The pressures caused by climate change will influence resource competition while placing additional burdens on economies, societies, and governance institutions around the world."
The report goes on to explain, "These effects are threat multipliers that will aggravate stressors abroad such as poverty, environmental degradation, political instability and social tensions—conditions that can enable terrorist activity and other forms of violence."
"President Obama and Secretary of State John Kerry should be looking out for Americans, not the interests of the oil and gas industry," said Russell Greene of Progressive Democrats of America. "They need to stand strong and not cave to pressures from the oil and gas industry when navigating this delicate diplomatic matter."
Visit EcoWatch's ENERGY and FRACKING pages for more related news on this topic.

On the eve of World Turtle Day, the world's largest travel website—TripAdvisor—removed the sale of tickets to the Cayman Turtle Centre, where more than 5,000 endangered sea turtles live in horrific conditions.
Keep reading...
Show less
The Dakota Access Pipeline under construction. Photo credit: Flickr
The Dakota Access Pipeline (DAPL) system leaked more than 100 gallons of oil in two separate incidents in North Dakota in March.

This is the $3.8 billion project's third known leak. The controversial pipeline, which is not yet finished and not yet operational, also spilled 84 gallons of oil in South Dakota on April 4.

Keep reading...
Show less
Robin Loznak
After numerous legal efforts trying to get a federal district court in Oregon to throw out a climate lawsuit brought by 21 young people, a defeated National Association of Manufacturers (NAM) filed a motion Monday requesting the court's permission to withdraw from the litigation.
Keep reading...
Show less
Greenland ice sheet melt in action. Sara Penrhyn-Jones
The Department of Interior edited a news release on a study coauthored by government scientists to remove a mention of climate change, the Washington Post reported.
Keep reading...
Show less
Hurricane Sandy floods a street in Lindenhurst, Long Island. Jason DeCrow/CC BY SA/2.5
By Robert McSweeney
Billions of people across the world could see climates they've never experienced before by the middle of the century, a new study said.
Keep reading...
Show less
Buyers look through frozen tuna on sale at the fish market in Tokyo's Tsukiji district. Rob Gihooly
By Tony Long
Japan, one of the world's largest fish importers, has joined 47 other governments in ratifying the Port State Measures Agreement (PSMA)—an international treaty designed to stop illegal, unreported and unregulated (IUU) fishing.
Keep reading...
Show less
Katahdin Woods and Waters. National Parks Conservation Association.
Looks like you'll have to trust your map if you want to find the newly designated Katahdin Woods and Waters National Monument in Maine.
Gov. Paul LePage has refused to put up any official signs along the four main roads to the 87,500-acre preserve, which is on the list of 27 national monuments under Interior Sec. Ryan Zinke's review.
Keep reading...
Show less
Keep reading...
Show less


Get EcoWatch in your inbox