2.6 Billion Pounds of Monsanto's Glyphosate Sprayed on U.S. Farmland in Past Two Decades
Farmers sprayed 2.6 billion pounds of Monsanto's glyphosate herbicide on U.S. agricultural land between 1992 and 2012, according to the U.S. Geological Survey. Glyphosate has been the go-to weed killer for use on genetically engineered, or GMO, crops since the mid-1990s, when Monsanto introduced its "Roundup Ready" corn and soybeans.
Click here to watch a time-lapse video of the spread of glyphosate across America over the 20-year period.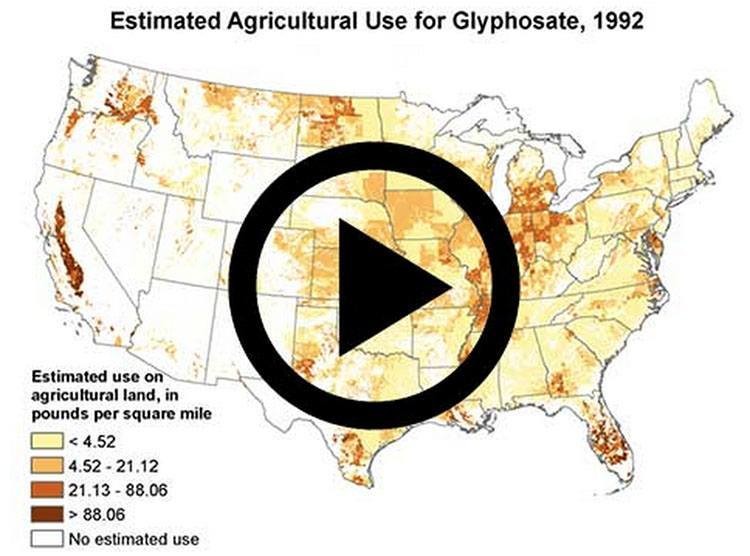 Recent research has found that exposure to glyphosate doubles the risk of developing cancer. Since the use of the herbicide on GMO crops has exploded in recent years, it's no wonder people overwhelmingly want GMO-containing food products to be labeled.
Here are the states that spray the most glyphosate year by year: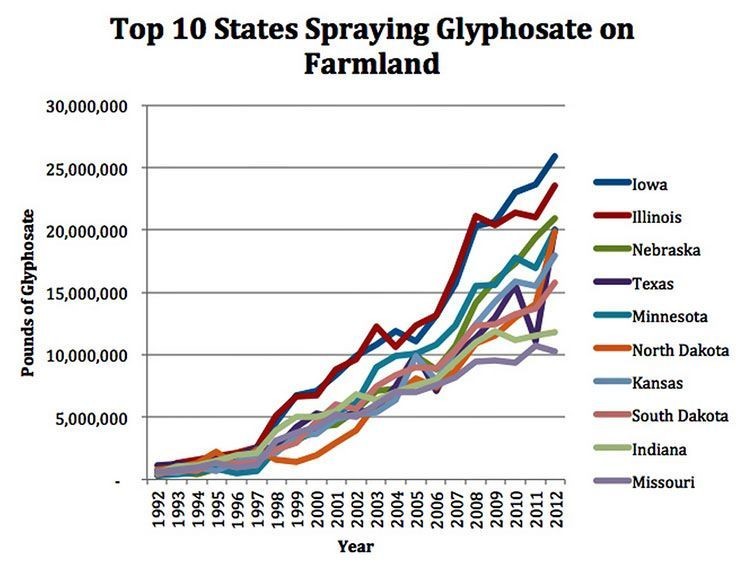 Photo credit: USGS, Pesticide National Synthesis Project
Glyphosate primarily blankets fields of GMO corn and GMO soybeans—the two most widely planted crops in the U.S. This table shows how many acres of these herbicide-tolerant GMOs were grown in 2014 in the states that produced the most.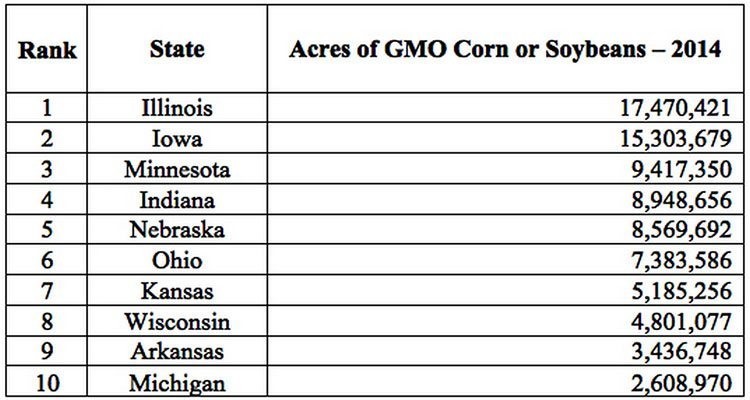 Photo credit: USDA NASS Acreage Report
But no matter where you live, you should have the right to know if the food your family is eating was produced with GMOs. While people in 64 other countries have that right already, Americans do not.
Tell Washington that it's time to stand with the 90 percent of Americans who want mandatory GMO labeling.
YOU MIGHT ALSO LIKE
Monsanto Fights Back Against Cancer Lawsuits as Company Eliminates 12% of Workforce
Why Isn't Big Ag's Huge Contribution to Climate Change on the Agenda at COP21?
Confirmed: American Academy of Pediatrics Cuts Ties With Monsanto
Katahdin Woods and Waters. National Parks Conservation Association.
Looks like you'll have to trust your map if you want to find the newly designated Katahdin Woods and Waters National Monument in Maine.
Gov. Paul LePage has refused to put up any official signs along the four main roads to the 87,500-acre preserve, which is on the list of 27 national monuments under Interior Sec. Ryan Zinke's review.
Keep reading...
Show less
Keep reading...
Show less
More than 58 percent of Swiss voters supported a measure to phase out nuclear power in favor of renewable energy.
The plan provides billions in subsidies for renewable energy, bans the construction of new nuclear plants and decommissions Switzerland's five aging reactors. There is no clear date when the plants will close.

Keep reading...
Show less
iStock
By Alex Kirby
An ambitious scientific expedition is due to start work on May 22 on Bolivia's second-highest mountain, Illimani. The researchers plan to drill three ice cores from the Illimani glacier, and to store two of them in Antarctica as the start of the world's first ice archive.
Keep reading...
Show less
CC-BY-SA-2.5 and GNU FDL
Although not on most people's radar here, New York is one step closer to becoming the first state to have genetically modified, non-sterile insects released outside without cages.

Keep reading...
Show less
Photo credit: Michael Fujiwara/YouTube
The viral video of a young girl snatched off a Richmond, British Columbia dock by a sea lion is another reminder that people shouldn't get too close to wild animals.
Port officials in Canada have sharply criticized the family for putting themselves at risk for feeding the large animal, especially since there are several signs in the area warning people not to do so.
Keep reading...
Show less
Bears Ears National Monument. Tim Peterson
An anti-public lands official in Utah said Interior Sec. Ryan Zinke has already made up his mind to repeal Bears Ears National Monument, a move experts say could be against the law.
Keep reading...
Show less
The Crop Trust
Flooding breached a supposedly impregnable Arctic "doomsday" vault containing a collection of seeds stored for an apocalypse scenario last week, after warmer-than-average temperatures caused a layer of permafrost to thaw.
Keep reading...
Show less