12 Foods That Cause Inflammation
Everyday foods like bacon, eggs, coffee and dairy products are linked to inflammation. That might not sound like a big deal, but consider the fact that most chronic conditions like cancer, arthritis, diabetes and obesity have been linked to inflammation. Low grade inflammation is a factor in most health issues. And if you suffer a pain disorder, you better believe that inflammatory foods will aggravate the condition.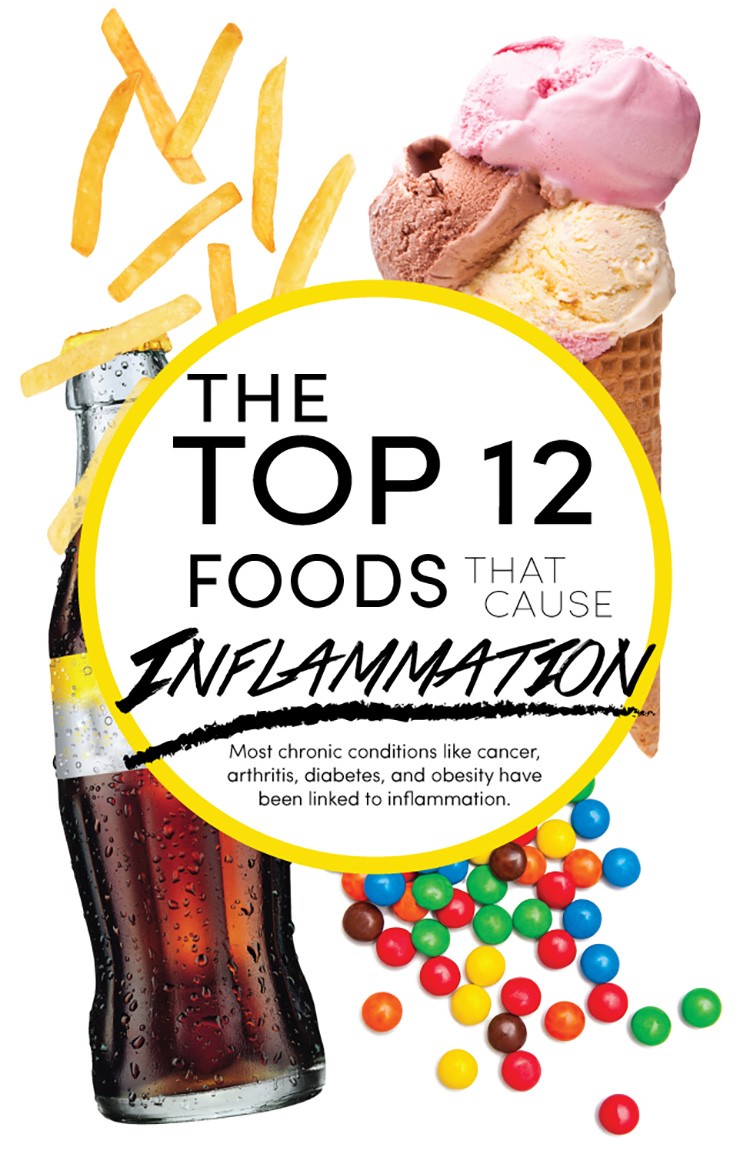 Try reducing your consumption of these foods with the goal of eliminating them completely. The same holds true for alcohol and fried foods—both of these have been known to irritate and worsen arthritis.
Many common foods in the Standard North American Diet can cause or exacerbate inflammation in the body.
Below are my picks for the top 12 inflammatory foods:
1. What I call the "3 Ps"–Processed, packaged or prepared foods. And, yes, fast food is atop the list of inflammatory foods thanks to the harmful oils, sugar and artificial sweeteners, food additives and a whole host of nasty ingredients.
2. Hydrogenated and trans fats found in margarine, shortening, lard or products made with them. That includes baked goods, cookies, pies, buns. Of course there are healthier alternatives to these baked goods but most grocery stores and bakeries are using these harmful ingredients.
3. Meat (not wild-caught fish). I'm not suggesting that you need to go vegan or vegetarian here—although a plant-based diet tends to be much lower in inflammatory substances—but meat and poultry tend to cause inflammation; make them the background of your meals not the main dish.
4. Fried foods (French fries, onion rings, potato chips, nachos, hamburgers, etc.). I think these items speak for themselves.
5. White sugar and sweets, including soft drinks and sweetened juices. Newer research is showing that sugar is one of the most addictive substances you can use. It's also highly inflammatory. No, you don't need to eliminate sugar and sweets altogether simply reduce your consumption and choose fruit as your "go to" food when you're craving something sweet.
6. Synthetic sweeteners (Nutrasweet, Splenda, saccharin, aspartame, AminoSweet, etc.)—research links these nasty substances to many serious health conditions. I avoid them like the plague.
7. Iodized Salt (use Celtic sea salt instead). Not harmful on its own but sodium is naturally found alongside other valuable minerals like potassium, calcium and magnesium. Choose unrefined salt which naturally contains many different minerals, not just sodium.
8. Food additives: Colors, flavor enhancers, stabilizers, preservatives, etc. Some of the main ones include sulfites, benzoates and colors named FD&C #"X." Unfortunately, many foods consumed by children are loaded with these harmful, toxic ingredients.
9. Dairy products (yogurt, ice cream, cottage cheese, butter, cheese, etc.). Dairy products are packed with hormones, antibiotics and other harmful ingredients so avoid them as much as possible.
10. Wheat products. Wheat is highly acid-forming and inflammatory in the body. Worse, most wheat available now is genetically modified (GMO). Many serious health conditions are starting to be linked to GMO wheat consumption.
11. Other gluten-containing grains. Gluten is found in most grains and can be highly inflammatory. Choose grains or seeds like buckwheat, quinoa or millet for your baking.
12. Alcohol. High in sugar and a burden to the liver, alcohol makes the top 12 inflammatory foods list. It is best eliminated or used in moderation.
YOU MIGHT ALSO LIKE
25 Easy Ways to Get More Fermented Foods in Your Diet
6 Powerful Ways to Improve Mental Health
Read This if You Love Eating Fish But Worry Your Getting Too Much Mercury Exposure
Katahdin Woods and Waters. National Parks Conservation Association.
Looks like you'll have to trust your map if you want to find the newly designated Katahdin Woods and Waters National Monument in Maine.
Gov. Paul LePage has refused to put up any official signs along the four main roads to the 87,500-acre preserve, which is on the list of 27 national monuments under Interior Sec. Ryan Zinke's review.
Keep reading...
Show less
Keep reading...
Show less
More than 58 percent of Swiss voters supported a measure to phase out nuclear power in favor of renewable energy.
The plan provides billions in subsidies for renewable energy, bans the construction of new nuclear plants and decommissions Switzerland's five aging reactors. There is no clear date when the plants will close.

Keep reading...
Show less
iStock
By Alex Kirby
An ambitious scientific expedition is due to start work on May 22 on Bolivia's second-highest mountain, Illimani. The researchers plan to drill three ice cores from the Illimani glacier, and to store two of them in Antarctica as the start of the world's first ice archive.
Keep reading...
Show less
CC-BY-SA-2.5 and GNU FDL
Although not on most people's radar here, New York is one step closer to becoming the first state to have genetically modified, non-sterile insects released outside without cages.

Keep reading...
Show less
Photo credit: Michael Fujiwara/YouTube
The viral video of a young girl snatched off a Richmond, British Columbia dock by a sea lion is another reminder that people shouldn't get too close to wild animals.
Port officials in Canada have sharply criticized the family for putting themselves at risk for feeding the large animal, especially since there are several signs in the area warning people not to do so.
Keep reading...
Show less
Bears Ears National Monument. Tim Peterson
An anti-public lands official in Utah said Interior Sec. Ryan Zinke has already made up his mind to repeal Bears Ears National Monument, a move experts say could be against the law.
Keep reading...
Show less
The Crop Trust
Flooding breached a supposedly impregnable Arctic "doomsday" vault containing a collection of seeds stored for an apocalypse scenario last week, after warmer-than-average temperatures caused a layer of permafrost to thaw.
Keep reading...
Show less